Assessment Experience
Understanding the assessment experience is crucial in being able to guide candidates and employees through the assessment process. This article will walk you through the typical experience from accepting the invitation to completing the assessment.
Step 1: Launch the Assessment
Individuals with a valid, unique email address can be invited to take an assessment directly from the Talent Dashboard, a self-registration link, or through an integrated applicant tracking system (ATS). Those who are invited directly from the Talent Dashboard will receive an email that includes a link along with instructions on how to proceed. (Click here to learn more about customizing invitation and reminder emails.)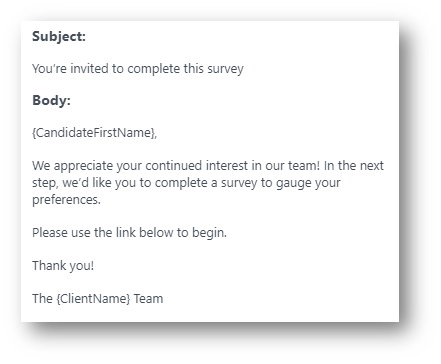 Clicking on the survey link will automatically launch into the assessment, where the participant is greeted by a Welcome Page and also has the option to select the preferred language. (Click here to learn more about customizing your assessment experience pages.)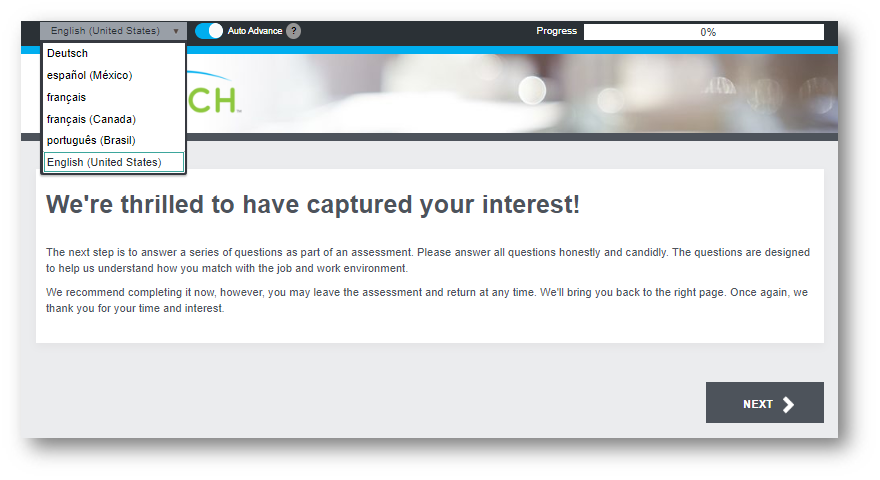 Individuals initiating an assessment via the self-registration link will be directed to the same Welcome Page, but will first be prompted to enter their name and email address.
Languages: By default, when an assessment is initiated, the questions will automatically appear in the supported web browser's default language. For those who prefer to complete the assessment in a different language, a drop-down menu in the top left corner of every page of the survey can be used to select the preferred language. Below are the current languages available:
Chinese (Simplified)
English (United States)
French (Canada)
French (France)

German
Italian
Japanese
Korean

Portuguese (Brazil)
Portuguese (Portugal)
Spanish (Mexico)
Accessibility for Visual Impairments: OutMatch Assessment supports keyboard navigation focus indicators and optimized text for screen readers (plug-ins that read alternate text to allow visually impaired users to know what is displayed on an image). Additionally, participants may turn on High Contrast Mode by selecting the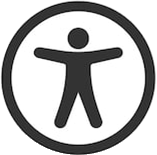 icon at the bottom of each screen, which will enhance the colors to make text and links easier to distinguish.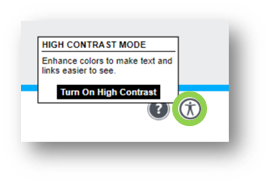 Step 2: Enter Demographic Information
After the participant clicks NEXT, optional demographic information is collected on the following page with their name and email address pre-populated. Though some of these fields are required, individuals can select Prefer Not To Say and leave the Year of Birth blank if they do not wish to provide this information. The demographic information is captured for aggregate reporting and research purposes only. Individual data does not appear on reports nor is it accessible through the Talent Dashboard.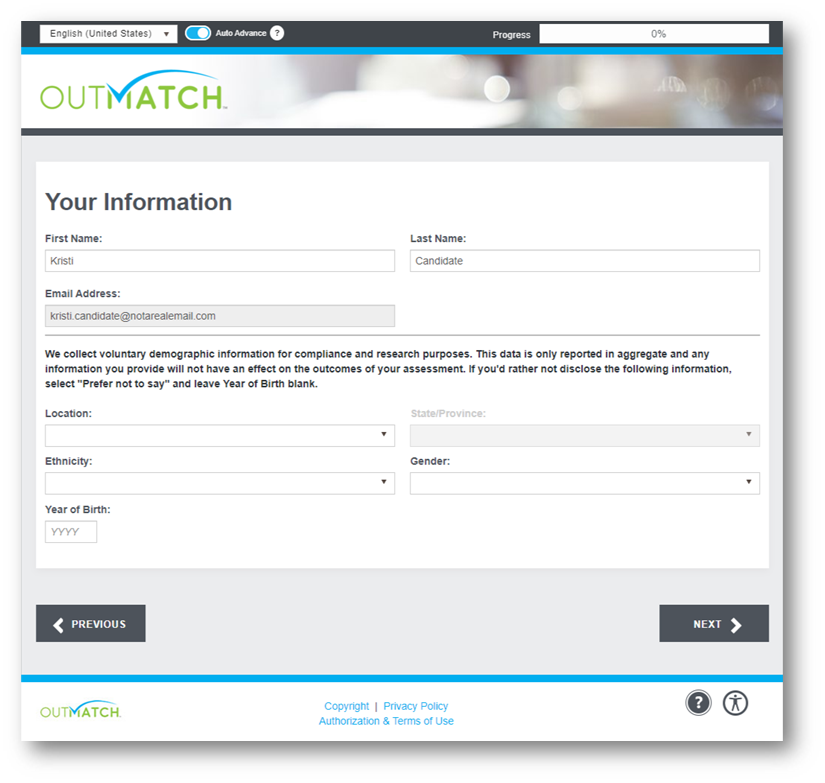 Step 3: Complete the Assessment
The assessment is fully mobile-optimized, so participants can respond to the survey on a mobile device or computer.
All questions are multiple choice and progress can be tracked in the upper right hand corner. Assessment progress is saved each time the NEXT button is clicked to move forward to the next page, so if they are interrupted while taking the assessment, participants can pick up where they left off using their unique survey link.
Participants can easily move back and forth between completed pages by clicking PREVIOUS or NEXT, and also have the option to change their preferred language at any point during the assessment.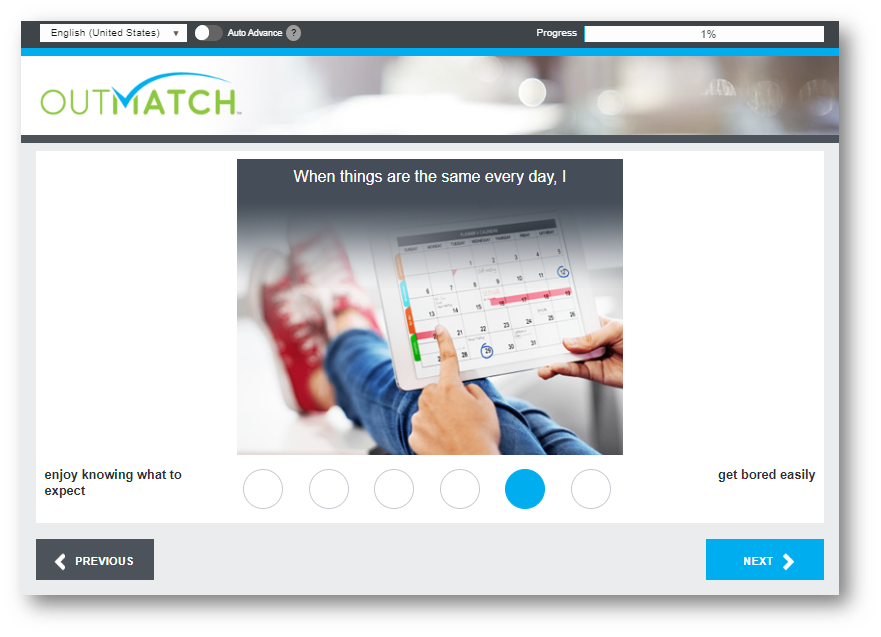 Step 4: Assessment Complete
After completing the assessment, the individual is given the option to review their responses.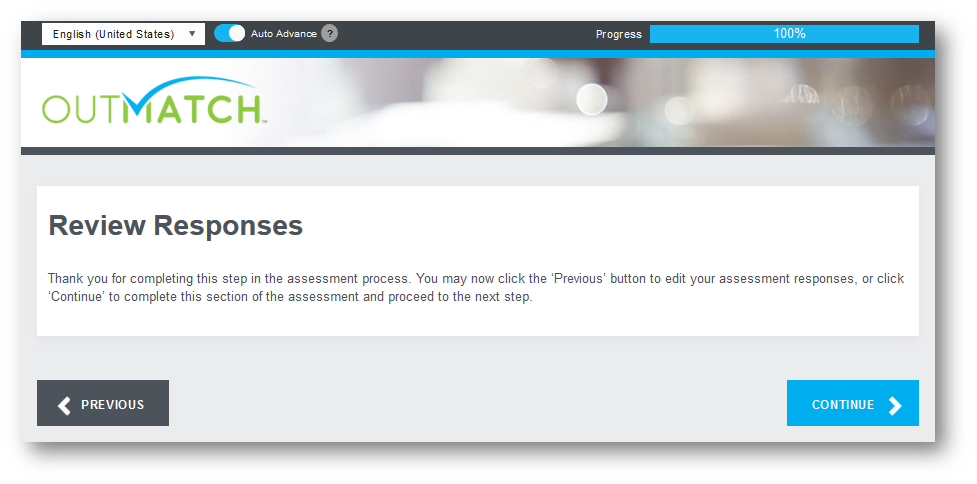 Once the individual has reviewed and submitted their final responses, they will either land on a Thank You page or will be directed to a specified URL. (Click here to learn more about customizing your assessment experience pages.)

That's it! The assessment status will update to Completed and the Assessment Report is immediately accessible within the OutMatch Talent Dashboard or your integrated ATS dashboard.
Still Need Help?
If you still have questions about your account, please contact OutMatch Support at support@outmatch.com. Please include:
Your first name and last name
Organization
And a detailed description of your question
Our business hours are Monday through Friday, 8:00 AM to 6:00 PM Central Time. We try to respond to all requests the same day if the request is received by 3 PM Central Time.