When sending invitations and self-registration links, Talent Dashboard users have the option to invite participants to take the assessment using either the Selection or the Development Context. The context accounts for the individual's mindset while taking the assessment, which ensures the most accurate scoring while still providing the full Assessment and Development Report for every person.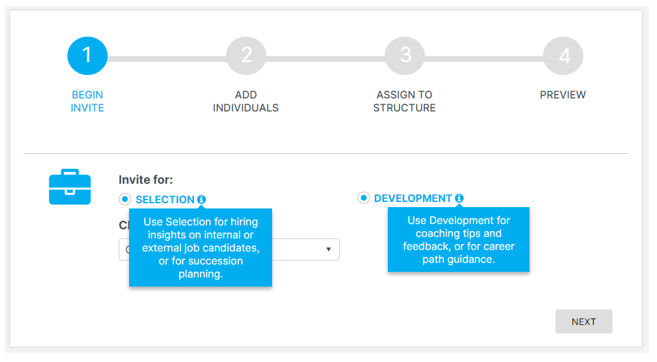 The Selection Context should be used for external and internal candidates where the assessment is a clear part of the evaluation criteria, and the individual is completing the assessment specifically for hiring and promotional purposes.​ The Selection Context should be chosen for:
External Candidates applying for a job

Internal Employees applying for a promotion

Internal Employee Succession Planning
The Development Context should be used for individuals when the assessment is administered for Development feedback purposes only. The Development Context should be chosen for:
Employees completing the assessment for self-insight

Employees completing the assessment for Development Feedback and Coaching Tips

Participants in a workshop or career development session
When inviting candidates through the Talent Dashboard, the Selection Context is always chosen by default since the vast majority of Outmatch assessments are used for Selection purposes. In addition, all jobs set up through an ATS partner are in the Selection Context by default.
Why is the context important?
Individuals who complete the assessment in a Development context tend to respond more candidly than applicants who complete in a Selection context. Conversely, applicants who complete in a Selection context tend to 'put their best foot forward' and impression manage more than those who complete for Development. Consequently, those who complete an assessment for Development tend to score lower on the overall fit score than those who complete the assessment for Selection. To account for this scoring discrepancy, OutMatch created separate norms for Selection and Development.
Please note, however, that if an individual scores a Poor Match on the assessment using the Selection Context, it is likely they will still score on the lower end using the Development Context. Regardless of the context selected, we don't typically see a large jump from a Poor Match to a Strong or Strongest Match. It is much more likely the shift would be from Poor Match to Fair Match.