Configuring Welcome and Thank You Pages
You want to attract the right people to your organization, so making sure you have a process that accurately reflects your brand and organization is important. OutMatch Assessment gives you that opportunity by empowering you to edit text at two key points in the survey process.
Welcome Page: The first page of the OutMatch Assessment experience before beginning the actual assessment. Provide specific instructions to the candidate and include language specific to your brand. This is also a great opportunity to link to your organization's data policy, if you have not already presented that information to your audience.
Thank You Page: The final page of the assessment experience. Make sure participants end the survey on a positive note by thanking them for their time and setting expectations for the next steps in the talent selection or development process. Or, redirect to a website of your choosing, such as your careers or company values page.
Hiring Administrators can configure Welcome and Thank You pages from within the Assessment Experience settings. Welcome and Thank You pages are completely mobile-optimized and are available in several languages.
Customizing the Welcome Page
From your Talent Dashboard settings gear, select Edit Welcome Page under the Assessment Experience Pages heading.

Welcome Page content can be customized to accommodate several different languages. Select the template language you would like to modify from the drop down menu and click NEXT.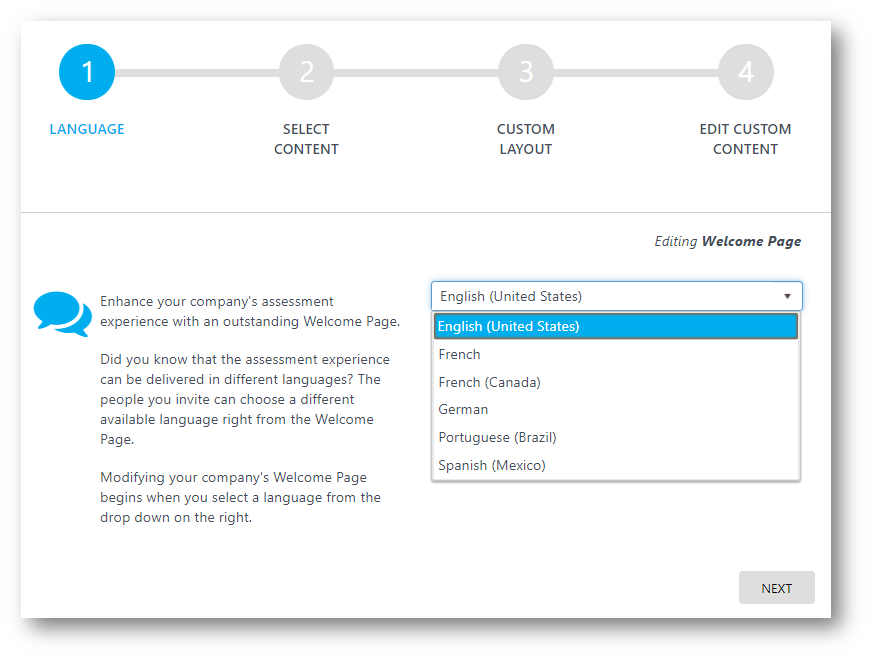 Next, view and choose the default text or create your own custom content.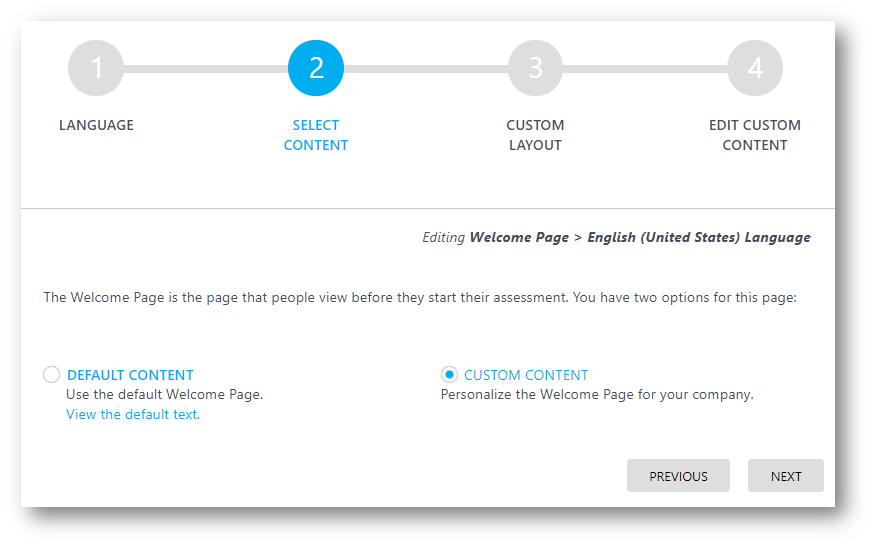 Next, select from the page layout options. You have flexibility to add media and customize the page text. Select View Samples to preview selected layouts on desktops and mobile devices.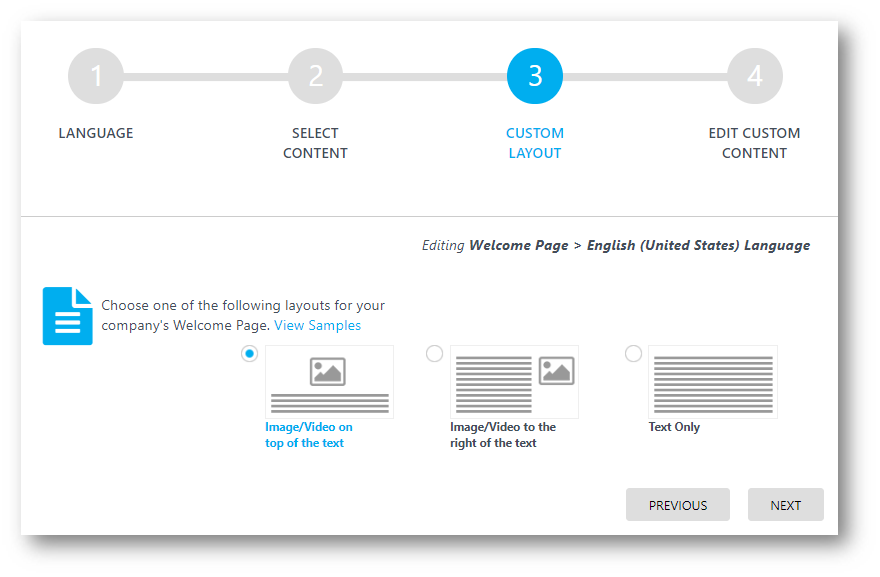 Finally, edit the page text, upload an image, or embed a YouTube or Vimeo video. Click SAVE.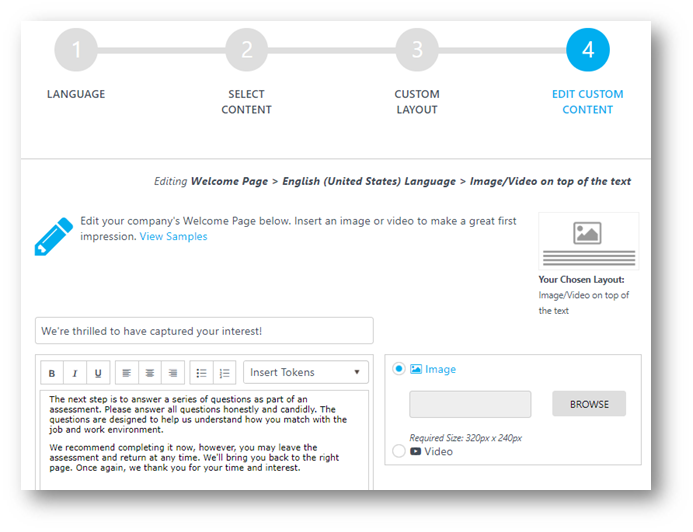 You'll see a confirmation that your changes are live. Default text will be provided in all available languages, but you may repeat the process for any languages you wish to customize.

Customizing the Thank You Page
From your Talent Dashboard settings gear, select Edit Thank You Page under the Assessment Experience Pages heading.

Next, choose whether you want participants to view a Thank You page or be automatically transferred to a specific web page after completing the assessment.
If you want to customize your Thank You page, select Use Thank You Page, select the language you wish to edit, and click SAVE. Follow the same instructions as above to add or edit your custom content.
If you prefer that individuals be sent to a particular website after completing the assessment, select Use Transfer URL, and the participant will automatically be forwarded to the website entered here upon completion of the assessment.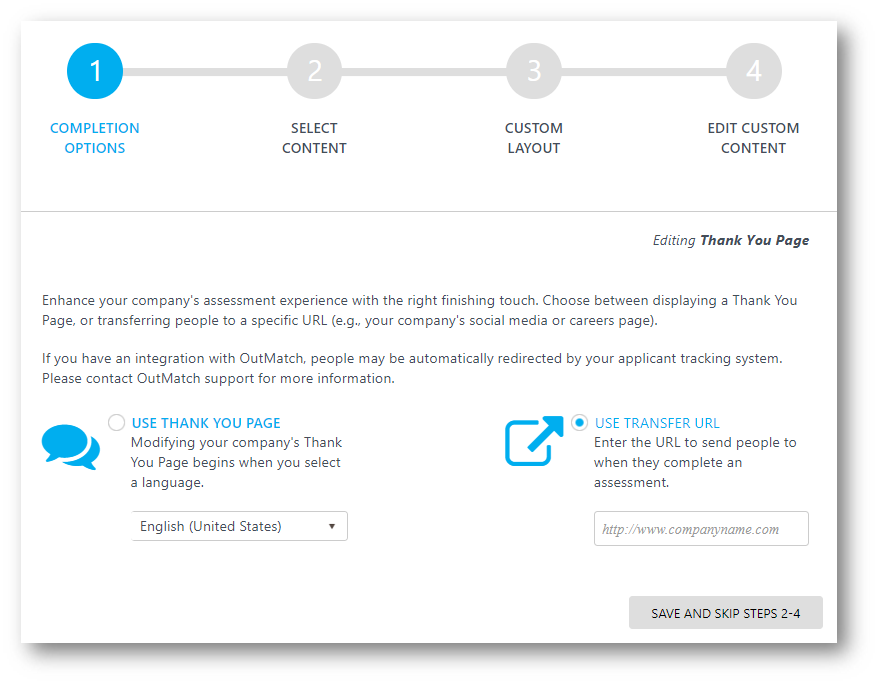 After making your selections and configurations, you will be presented with a confirmation page indicating that your changes have been saved and are now live in your account.

Additional Tips
When customizing your assessment, keep the following in mind:
What is the purpose of the customization? What message are you trying to convey?
Are there special instructions candidates or employees will need?
How will these changes affect the mobile and desktop experience?
Are these changes for a universal audience? Remember these are account level templates and not specific to jobs or profiles.
Still Need Help?
If you still have questions about your account, please contact OutMatch Support at support@outmatch.com. Please include:
Your first name and last name
Organization
And a detailed description of your question
Our business hours are Monday through Friday, 8:00 AM to 6:00 PM Central Time. We try to respond to all requests the same day if the request is received by 3 PM Central Time.