An OutMatch Job Code, often referred to as an assessment ID or package ID in the applicant tracking system (ATS), is a unique value that identifies which assessment the ATS will send to your candidates via the integration.
If you have not yet added your Job assessment to the OutMatch Talent Dashboard, click here for instructions on how to complete this step first.
Adding a New Job Code
Navigate to your Settings gear and scroll to the bottom of the page to the Integrations section. Click Start Now under the Manage Job Codes heading.
To create a new Job Code, click Add Job Code, select a Job from the list, and a unique code will automatically populate. Prefer to use a different Job Code? No problem! You can create your own unique Job Code by editing the field prior to clicking on Save. After saving, the Job Code cannot be edited or deleted.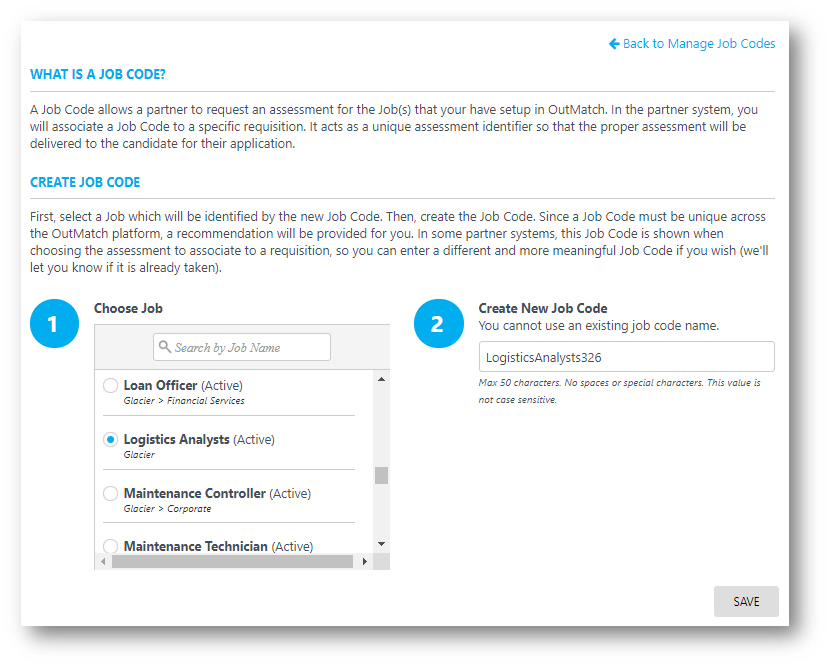 The recommended format for creating a unique Job Code is to use the first three letters of the Company name + Job name. For example, the XYZ Company added a job code for their Collections Professional job. The recommended Job Code name would be XYZCollectionsProfessional or XYZCollectProf. Do not include any spaces.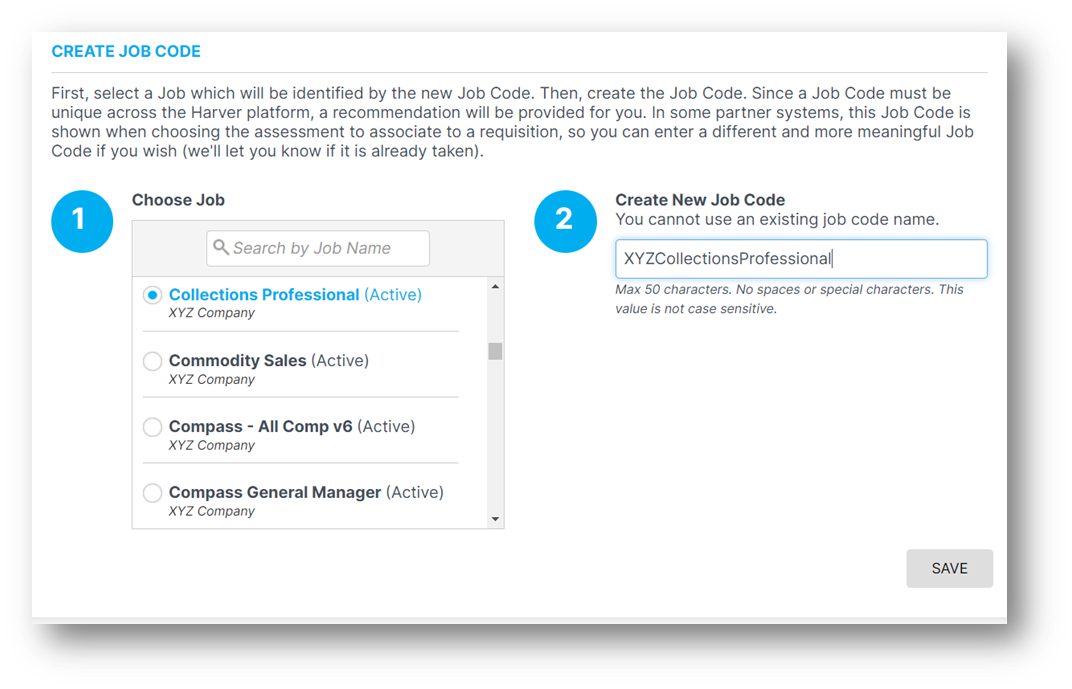 Repeat until you have added a Job Code for each of the assessments that you want to make available in your ATS.
Next, add the new Job Code into your applicant tracking system, or provide the Job Code to your ATS account representative or consultant.
Note: This step varies based on which ATS is being used. Refer to the Integration Help Guide (Settings > Manage Partner Integrations > View/Edit Integration > Integration Help Guide) for details on how to set up the integration within your ATS. If you have questions about steps required in the ATS, please reach out to your ATS account representative for more information.
Reassigning an Existing Job Code to a New Job
What if you decide to use a different assessment configuration or profile for the same role later on? Not to worry - we've made it easy to simply reassign your existing Job Code to your new Job assessment in the OutMatch Talent Dashboard, without having to make any changes in your ATS settings or requisitions.
To reassign an existing Job Code to a new Job assessment that you have created, navigate to your Settings gear and scroll to the bottom of the page to the Integrations section. Click Start Now under the Manage Job Codes heading.
Here, you will see a full list of your existing Job Codes, along with information about which Jobs are currently assigned to each one. Click Reassign Job Code.

On the Reassign Job Code screen, choose the new Job that should be associated with the existing Job Code and select a date and time at which candidates should start routing to the new assessment. Click Save.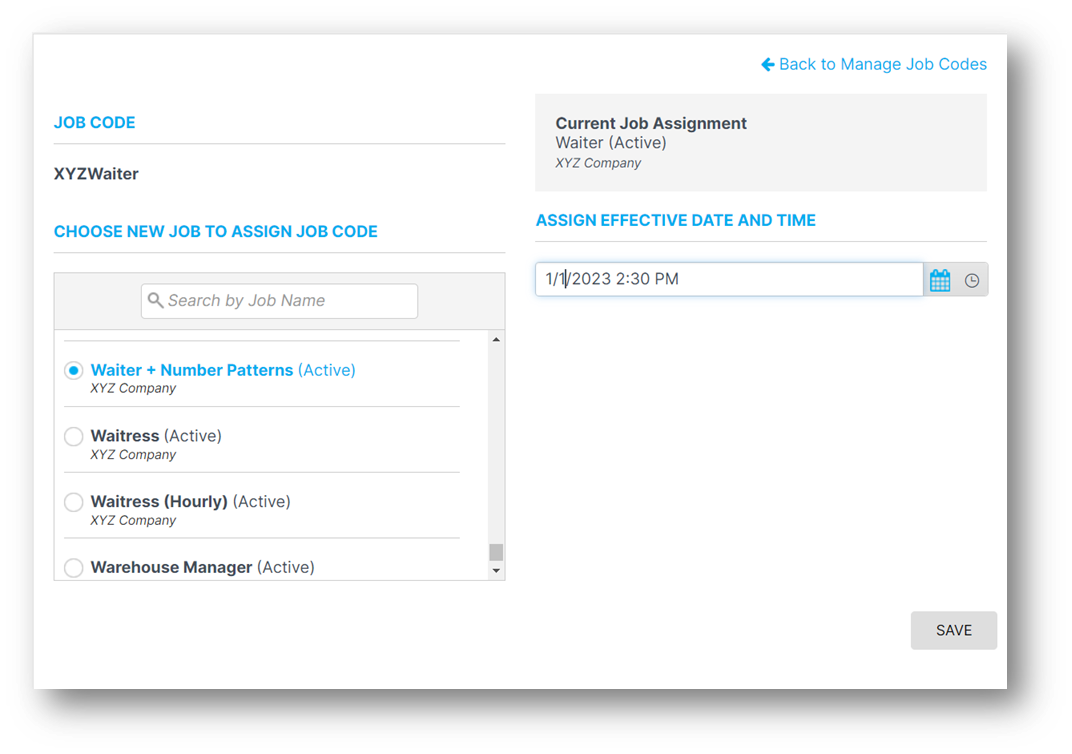 You do not need to perform any additional actions within your ATS - your candidates will automatically be presented with the new assessment started at the designated Effective Date and Time. And not to worry! Any candidates In Progress status on the old assessment will still be able to complete the survey and their reports will still populate within the Talent Dashboard.
Still Need Help?
If you still have questions about your account, please contact OutMatch Support at support@outmatch.com. Please include:
Your first name and last name
Organization
And a detailed description of your question
Our business hours are Monday through Friday, 8:00 AM to 6:00 PM Central Time. We try to respond to all requests the same day if the request is received by 3 PM Central Time.