OutMatch offers easy point-and-click integrations with several popular applicant tracking systems. Click here to view more information about our integration partners!
Setting Up Your Integration
While the integration steps required in your applicant tracking system (ATS) may vary depending on which system you are using, the process for setting up your integration in the OutMatch Talent Dashboard is fairly standardized.
Step 1: Add Jobs to OutMatch
First and foremost, you'll need to set up the Job assessments in OutMatch that you want available in your ATS. Be sure to review our How-To and Best Practice articles on managing your Jobs and Job Profiles to get started on the right foot!
As you are adding Jobs and Job Profiles to your account, keep in mind that each Job will need to be added to your ATS as an assessment option.
To simplify your account setup and your assessment options, consider grouping roles with similar job functions together to leverage the same assessment and minimize the number of Jobs that you need to create. For example, if you have several hourly or entry-level roles that are primarily administrative, you may want to create one Job Profile and Job for Administrative Support Workers. Or, if you have several department managers with different job titles but the same primary function of managing people, you may want to add one Job Profile and Job such as General and Operations Managers, rather than having separate assessments for different departments.
Step 2: Select the Integration Partner in OutMatch
Navigate to the Settings gear, and scroll down to Integrations. Click Start Now under the Manage Partner Integrations heading.

Next, select your ATS from the Partner list. NOTE: If the integration partner has already been selected and set up, this step may have already been taken care of by your OutMatch Client Success team. In this case, download the Integration Help Guide and proceed to Step 3 without making changes to any credentials which may have been entered.

After choosing the integration partner, the view will change, providing you with more instructions. Download the Integration Help Guide. This guide will provide step-by-step details for setting up the integration in your ATS, including instructions for obtaining any required integration credentials.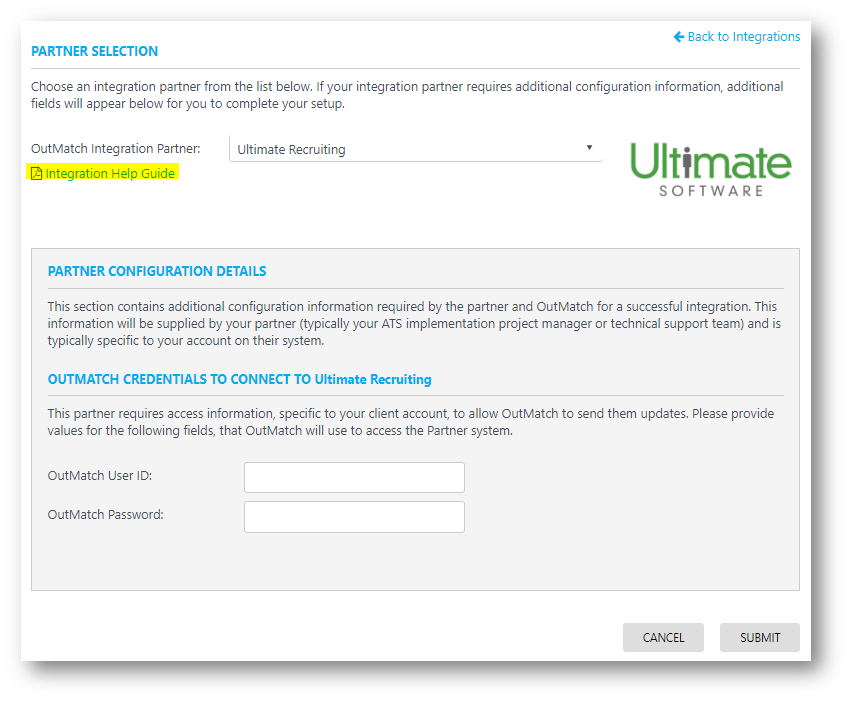 If prompted, enter the integration credentials as instructed in the Integration Help Guide (or reach out to your Client Success team to obtain your credentials), and click Submit.
Step 3: Assign Job Codes in OutMatch
After setting up the integration partner, you will see the screen below, prompting you to add Job Codes as the next step.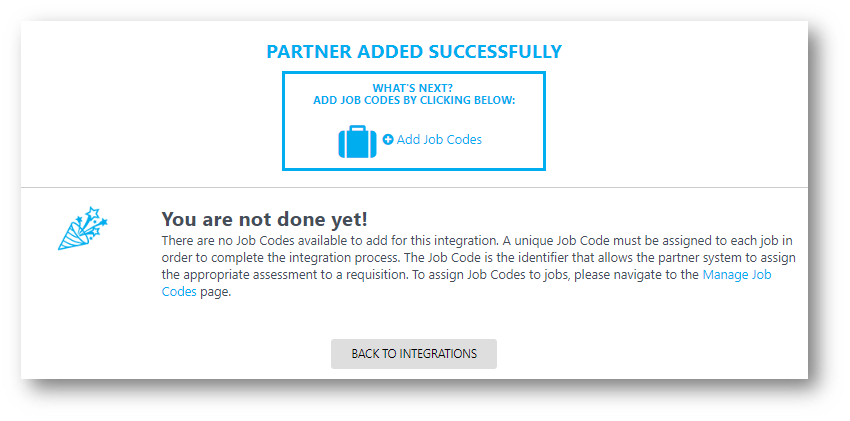 Click Add Job Codes, or to return to this screen later, navigate to the Integrations Settings and click Start Now under the Manage Job Codes heading.
An OutMatch Job Code, often referred to as an assessment ID or package ID in the ATS, is a unique value that identifies which assessment and scoring profile that the ATS will request via the integration.
To create a new Job Code, select a Job from the list, and a unique Job Code will automatically populate. If you prefer to use a different Job Code, you can edit that field before clicking Save. After saving, the Job Code cannot be edited or deleted. Repeat until you have added a Job Code for each of the assessments that need to be available in your ATS.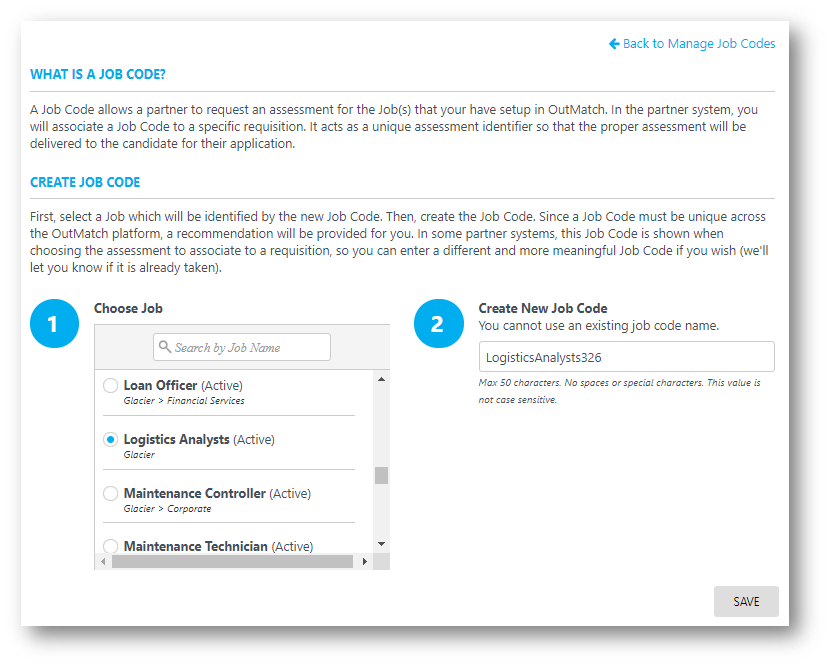 Step 4: Save the Integration Details File
If the Integration Help Guide indicates that you need to generate the Integration Details file, you can do so from your Integration Settings. Once more, you will click Start Now under the Manage Partner Integrations heading. You should now see your active integration partner listed. Click Integration Details to download and save the file.

The Integration Details will include your credentials (if needed for your ATS) and a summarized list of your Jobs, Job Codes, and Score Band Names.

Step 5: Set Up Assessments in Your ATS
This step varies based on which applicant tracking system is being used. Refer to the Integration Help Guide for details on how to set up the integration within your ATS. If you have questions about steps required in the ATS, please reach out to your ATS account representative for more information.
The most common issues that arise when setting up assessments are due to an incorrect User ID, Password, or Job Code, so be sure to double-check that they match exactly as you enter them into your ATS system.
That's it! You're now ready to start assessing candidates directly from your ATS.
As your candidates complete the assessment, the full assessment report will be available as a clickable link within your ATS dashboard.
Still Need Help?
If you still have questions about your account, please contact OutMatch Support at support@outmatch.com. Please include:
Your first name and last name
Organization
And a detailed description of your question
Our business hours are Monday through Friday, 8:00 AM to 6:00 PM Central Time. We try to respond to all requests the same day if the request is received by 3 PM Central Time.