Step 3: Create a Job from a Hiring Profile
This feature is only available to Hiring Administrators. If you are a Hiring Representative, please skip this article and proceed directly to Inviting Candidates.  
To begin using the OutMatch Platform, a Hiring Administrator must first create a job. A job is created from a hiring profile. 
So, what's a hiring profile? And what's a job?  
Hiring profiles are surveys with a set of configurations that are used to create jobs. A job is a specific role in your company, created from a hiring profile, that has been configured to meet the needs of that role. A single hiring profile can be linked to many jobs. The OutMatch Platform makes a number of hiring profiles available to facilitate the quick setup of your jobs.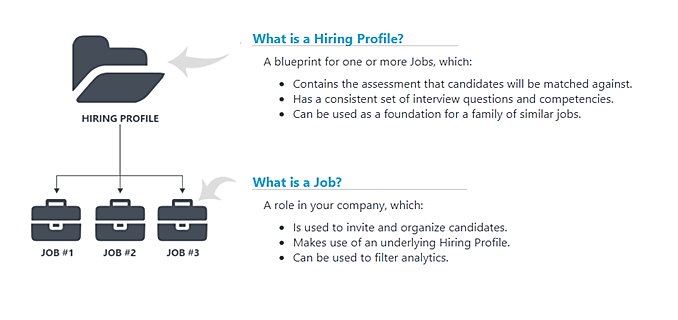 First Time Creating a Job
Start by navigating to the Jobs section on the navigation bar. If this is the first job created for your organization, select GET STARTED!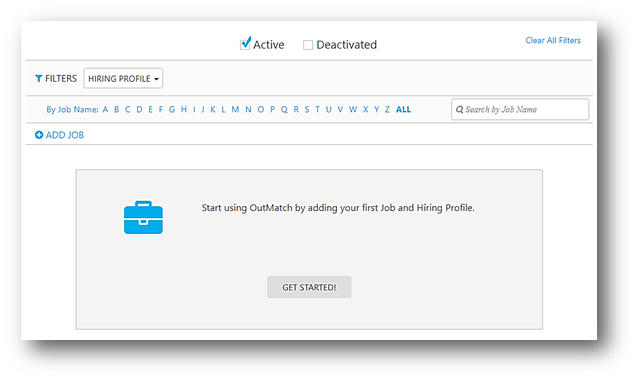 Next, select CREATE A NEW HIRING PROFILE.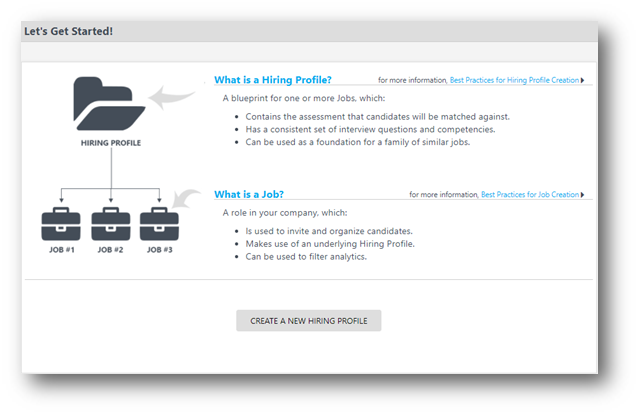 An alphabetical list of hiring profiles will be displayed. There are over 800 hiring profiles, but there are many ways to sort the information to find the hiring profile appropriate for your job.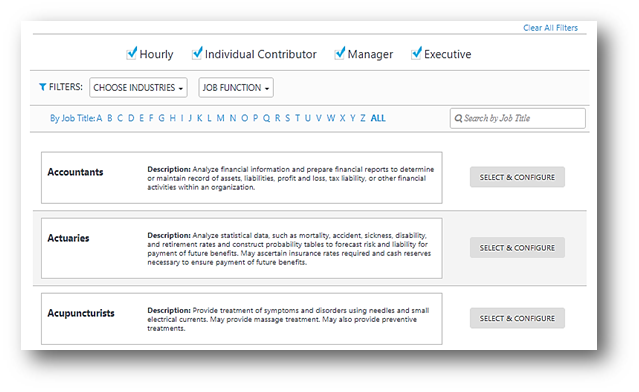 Select the type of profile/job by unchecking the options that are not needed - Hourly, Individual Contributor, Manager, Executive.
Use Filters to select an Industry and/or Job Function. Remember to click APPLY to save your selection(s).
Select the alpha letter to see a list of Job Titles that begin with a specific letter.
Search by Job Title. 
Locate a hiring profile similar to the job you intend to post. Please refer to the 'Description' next to the hiring profile for further details. Once you find the hiring profile that best fits your role, click SELECT AND CONFIGURE. 
Configure the Hiring Profile
To configure the hiring profile, you will need to name the hiring profile, add a description, and select the measures you want to include in the assessment. Keep in mind that each optional abilities measure (such as Abstract, Numerical, or Logical Reasoning) adds approximately 15 minutes to the assessment experience, so we recommend only including those which are job-relevant for professional level roles.
While the Hiring Profile name and description can be edited later, the selected measures cannot be changed to ensure consistency with candidate experience and scoring. To learn more about creating Hiring Profiles, consult the Best Practices - Creating Hiring Profiles article.
When the hiring profile is completed, click ADD A JOB TO THIS PROFILE.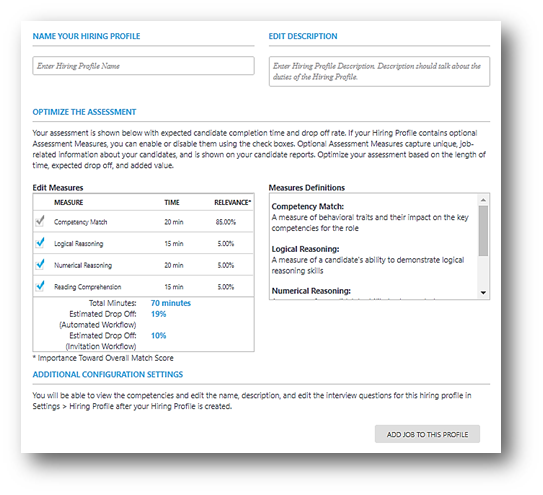 Configure Your Job
Time to finalize your job!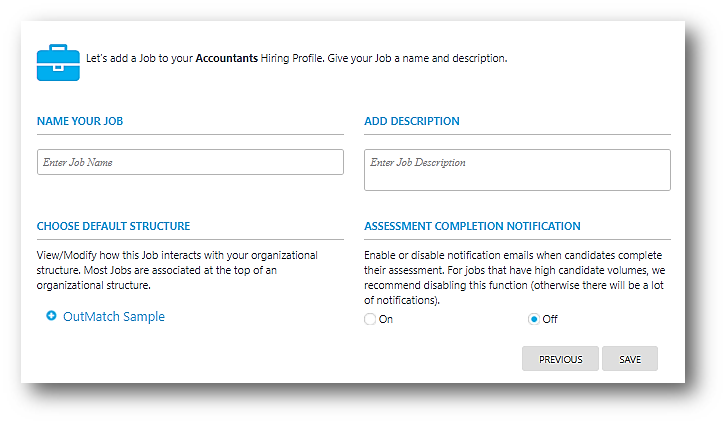 Name your job and add a description.
Select the structure level at which you want the job to be accessible. Remember, the job will be accessible at that level and all the levels below. 
Set your Assessment Completion Notification preference - On or Off.
Click SAVE. The job is now available for general use by Hiring Administrators and Hiring Representatives in the locations selected.

After The First Job Has Been Created
Once you have created one or more jobs for your organization, those jobs will appear on your Jobs screen. To add a new job, simply click the ADD JOB link located above your list of current jobs. You will then have the option to create a job from an existing hiring profile or from a new hiring profile.
You also have the ability to create your own hiring profiles, edit interview questions, add measures (e.g., cognitive surveys) and view estimated completion times/drop off rates. More details about the creation and configuration of hiring profiles and jobs can be found within the Client Help Center.
Click here to learn how to invite candidates to complete an assessment.