Step 5: Ready to Review Reports
OutMatch reports contain valuable information to help you make a good hiring decision. OutMatch reports provide:
Insight into your candidate's innate style and tendencies
Competency based Interview guides
Development suggestions
Selecting the Right Candidate
OutMatch Assessment helps you identify top talent quickly and easily by assigning an overall score to every candidate with a completed assessment. From the Candidates screen, you can sort your candidates by a variety of criteria. We highly recommend that you sort candidates by overall score (high-low) so that your strongest talent stands out on top!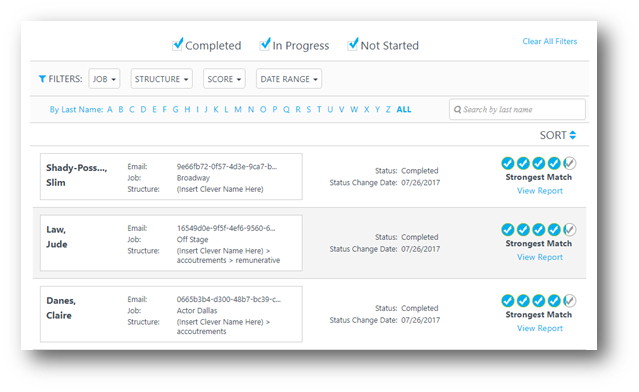 Accessing Candidate Reports
Any candidate with a 'Match' score has a completed report ready for review. Simply click View Report under the candidate's score.

The candidate's report will open in a separate window. From here, you'll be able to access the details behind the overall recommendation. Though the report will vary based on position, the general components remain the same:


Overview: An overall snapshot of the candidate's assessment results
Key Insights: Additional in-depth information on the candidate's assessment performance
Interview: Competency based interview questions to assist with the interview process
Develop: Candidate and manager advice for developing and onboarding employees
Share: Tool that allows managers to share candidate results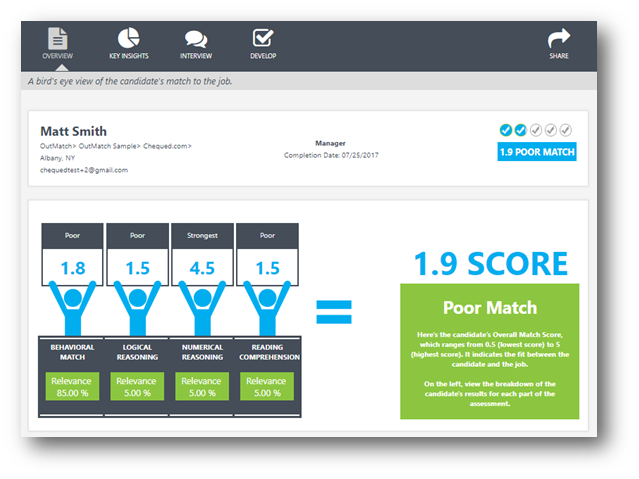 To learn how to navigate, interpret, and leverage candidate reports, please refer to our Report Guides. 
 Please review our last article on Additional Resources to conclude your quick tour of OutMatch Assessment!