Step 4: Invite Individuals to Complete the Assessment!
Individuals can be invited to complete the OutMatch Assessment in three ways:
Rapid Invite
Direct invitation
Self-registration link
Rapid Invite
From the Home screen, quickly send an invitation by entering the First Name, Last Name, Email Address, and selecting a Job from the drop-down menu.
If the candidate or employee is being considered for a different role, choose the Selection option. If the individual is taking part in a development or leadership workshop, choose the Development option.
NOTE: There is no difference between the assessment or report for Selection and Development, but the scoring is adjusted to account for slight variations seen in particular traits when taking the assessment in a high-stakes selection mindset versus a low-stakes personal development mindset.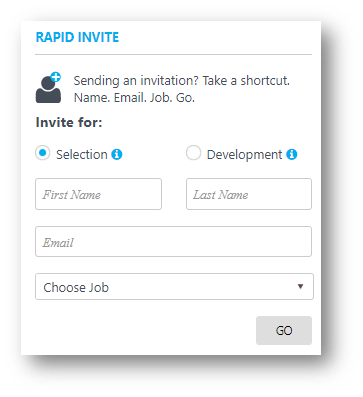 Direct Invitations
From any screen on the Talent Dashboard, you can send invitations by clicking Invite on the top right on the navigation bar.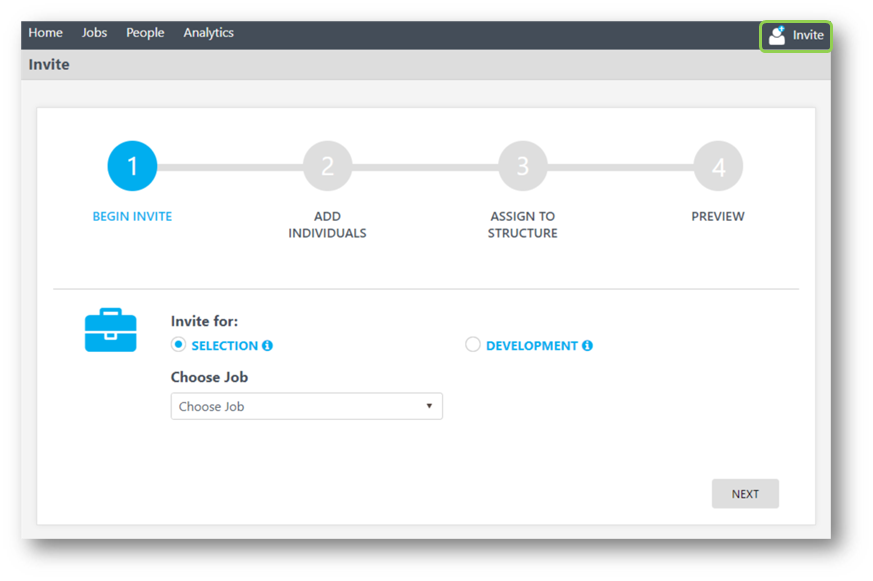 Select the appropriate invitation context and the desired job from the drop down menu and click NEXT. Add up to 20 individuals at a time to send a direct invitation, preview the invitation email, and SEND EMAIL.
Alternatively, you can invite candidates directly to an active job on the Jobs screen by clicking Invite and following the same instructions as above.

In both instances, the remaining steps to invite candidates will be the same:
1. Send up to 20 assessment invitations at once! As you add each individual, an invitation box will appear to enter each person's name and email address. If needed, click the pencil icon to edit the name and/or email address or click X to remove them from the invitation list. When you have added all of your invitees, click NEXT.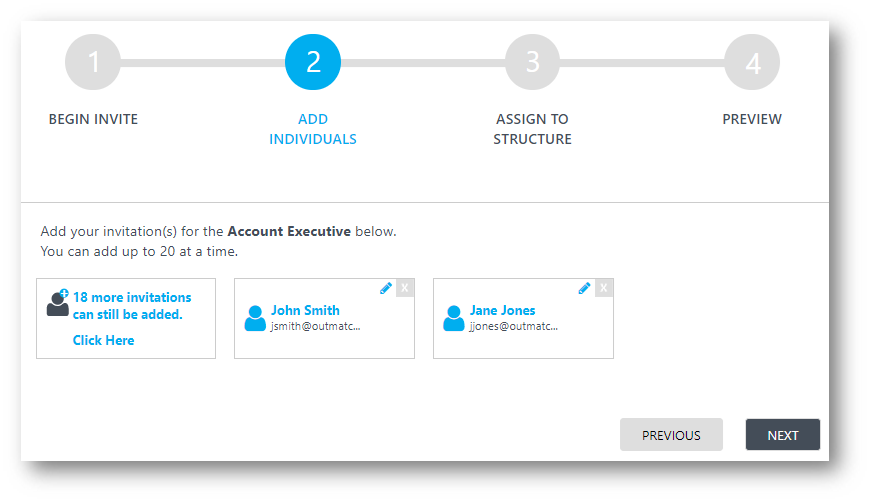 2. If applicable, assign the individuals to a specific part of your company's structure and click NEXT.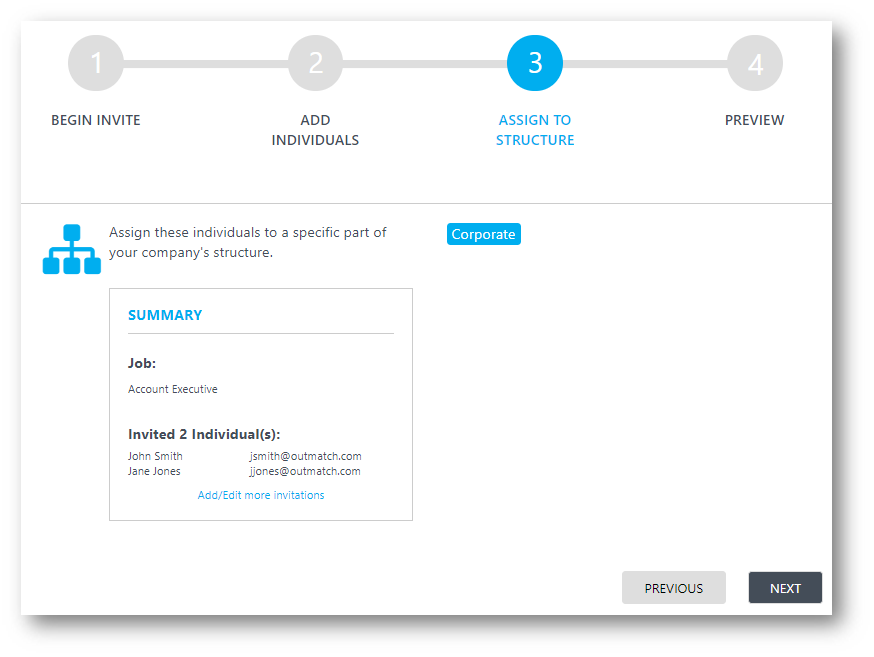 3. Send the survey invitation email. You will be able to review the invitation email that is being sent to the candidate(s) prior to sending.
NOTE: To avoid emails being filtered into spam, you may want to advise participants to add 'noreply@outmatchapps.com' to their safe senders list, as all invitations and reminder emails will send from this address.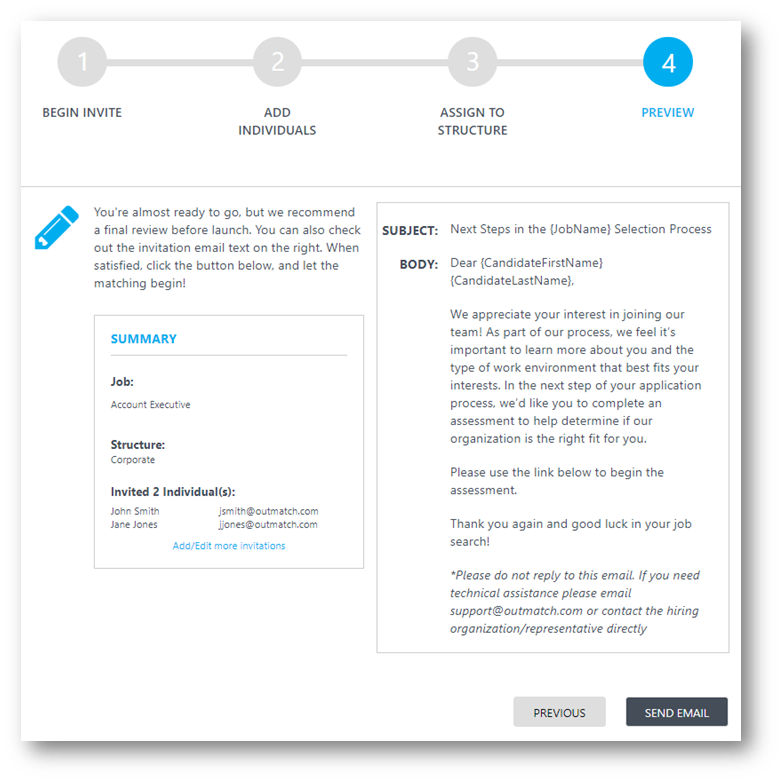 The ability to edit the invitation text is a feature that a Hiring Administrator must activate for you. If you do not see an option to edit invitations, please contact your Hiring Administrator.
Self-Registration Link
You can also use a unique, static link to allow individuals to self-register for the assessment, without the need to invite each person individually.
Each job in your account will be automatically assigned a self-registration link. Scenarios for which this may be useful:
You would like to post the survey link within a job posting.
You would like to invite candidates or employees directly from your personal email.
You would like to invite a large number of individuals at once without adding each person individually.
To access a job's unique link, select Self-Registration Link to the right of the desired job. A pop up window will appear with the link. Copy the link and paste wherever you choose.

NOTE: The self-registration link will automatically change to apply the selected structure location (if applicable) and assessment context - Selection or Development.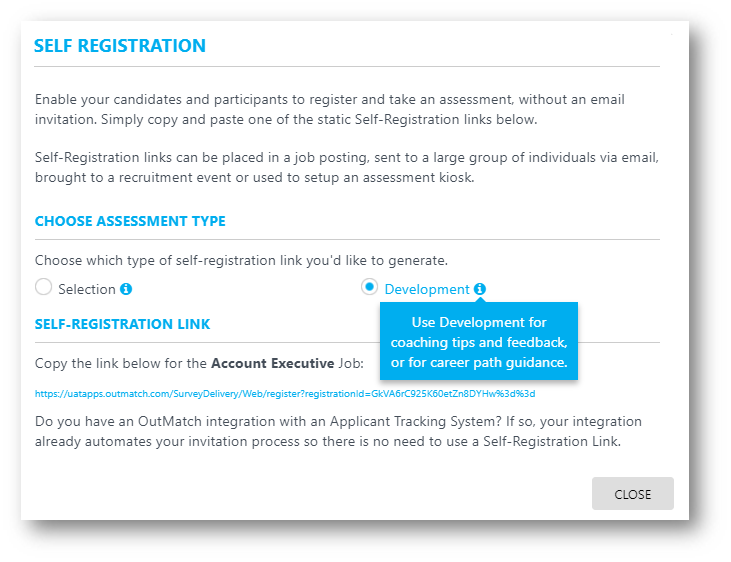 Individuals who initiate an assessment with the self-registration link will be asked to enter their full name and email address and then will be launched into the assessment. You will be able to monitor their progress within the Assessments screen on your Talent Dashboard.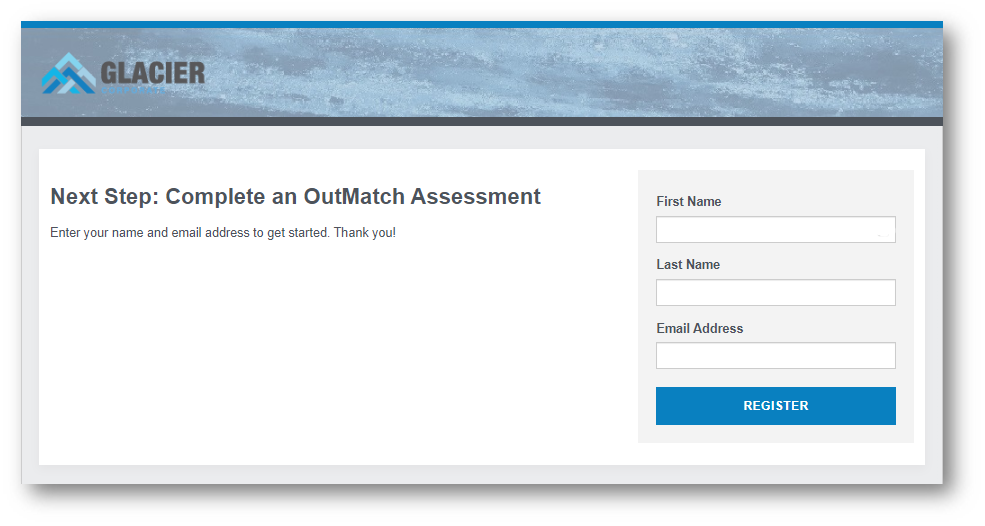 Monitoring Progress
The Assessments screen will include all assessment information for all jobs. You will be able to:
View assessments by status (Completed, In Progress or Not Started).
Filter assessments by job, invitation context, structure, score, and/or date range.
Sort and stack rank assessments by status, last name, or score.
Search by last name for a specific individual.
Send reminder emails.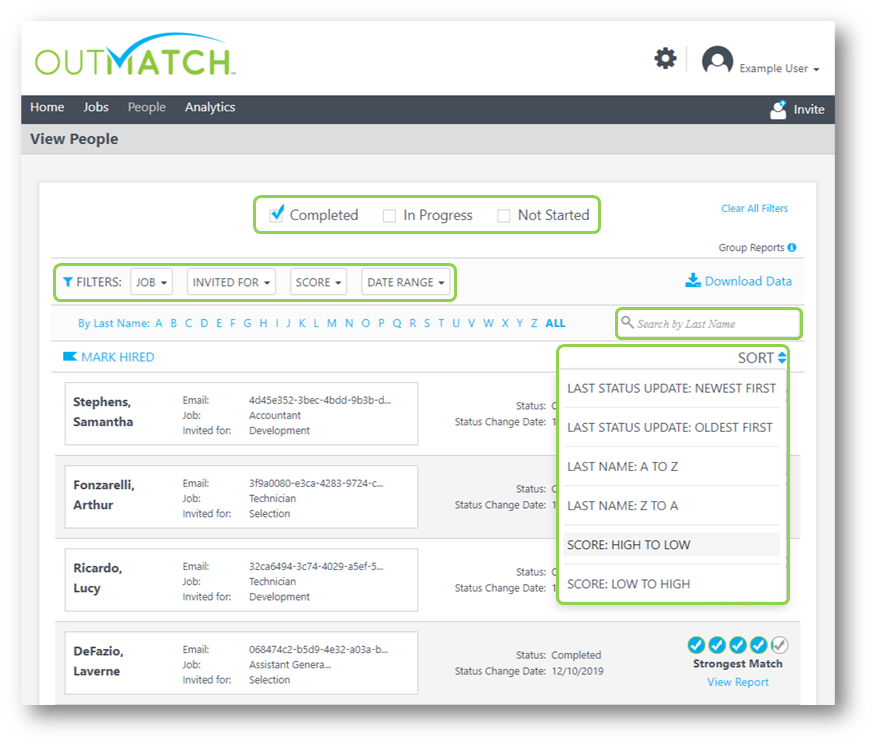 Once the survey has been completed, the Assessment Report will be immediately available to view from the People screen.

Click here to learn how to review assessment results!