| | | | | | | | |
| --- | --- | --- | --- | --- | --- | --- | --- |
| | Owner | | Administrator | | Interviewer | | Reviewer |
Once candidates have completed their interview, it is easy to evaluate their responses and leave comments for other evaluators to analyze. Follow the steps below to properly evaluate candidate interviews.
Index:
Access the interview you want to evaluate
You can access the interview you would like to evaluate by one of two ways:
The evaluator will receive an email with the name and the position of the person who was interviewed. You can click on the link you receive through the email if you are an evaluator.

If you are an account member (owner, admin, interviewer), you can access your Wepow account and manually search for the desired candidate using the Candidate tab.
How to evaluate an interview
A candidate will be considered successfully evaluated once the evaluator has given a thumbs up or thumbs down or watched and rated all of the responses
First, select the candidate to take you to the interview screen.
To leave a thumbs up or thumbs down, click on the icon on the right-hand side of the screen.

You can rate each question by giving it a star rating from 1 to 5 - 5 being a great answer and 1 being a not so great answer.
Leave a comment in the evaluation form
You can leave comments for other evaluators.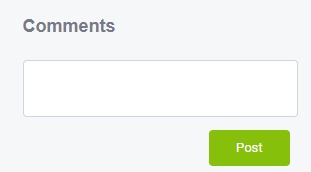 Note: Comments cannot be seen by the candidate to ensure that the evaluators can be honest in their evaluations.

It is not necessary to leave comments for each of the questions and the evaluation will be completed with only a thumbs up or thumbs down, however, it is encouraged to be as thorough with your evaluation as possible.
ONCE ALL QUESTIONS HAVE BEEN RATED BY EITHER THUMBS UP/DOWN AND/OR STAR RATED, THE EVALUATION OF THE INTERVIEW HAS BEEN COMPLETED. OTHERWISE, YOU MIGHT RECEIVE EVALUATION REMINDERS.
Evaluation details
Once the candidates have been evaluated, you will be able to see the evaluation for each candidate.
Go to the interview you would like to view and select the "Complete" filter on the left-hand side of the screen.

Note: If you do not select the Complete filter you will not see the option to see the evaluation details.

Here you will be able to see:

Evaluations given to each candidate

Thumbs up/down given and by hovering your mouse over the icon you will be able to see who gave them the evaluation
Analytics View
By clicking on the Graph icon you will be able to see an Analytics view. Here you will see the rating per question and the overall rating per candidate. From here you are able to export an excel document with more detailed information as well as the comments from the evaluators.