Wepow encourages you to record your videos within the platform in order to give that homemade/friendly feeling to your interviews.
However, Wepow also allows you to upload your own pre-recorded videos in an easy way! This is pretty useful especially when you want to add your company logo to your videos (for example), but there are still some things to have in mind:
We support mutiple

video

formats (Eg. mov, avi, mkv, etc.) however we recommend uploading your videos in MP4 format.
Wepow uses an aspect ratio of 4:3 for its

videos

.

Videos

with different aspect ratios (eg. Wide Screen aka 16:9, Mobile portrait, etc.) will be cropped in order to fit. We recommend you to edit your

videos

into a 4:3 aspect ratio before uploading them to Wepow.
The default resolution used by Wepow is 640px X 480px; bigger

videos

will be re-sized to fit, smaller

videos

might look pixelated.
Want to have the best results? This is our recommended configuration:

Format: MP4 (FLV is good too)
Codecs: H.264 + AAC
Resolution: 640px X 480px
Target bitrate: 1500 Kbps
Size: under 300MB
Finally, to upload your pre-recorded video(s) just proceed to create a new Question / Transition and then click the link Upload video: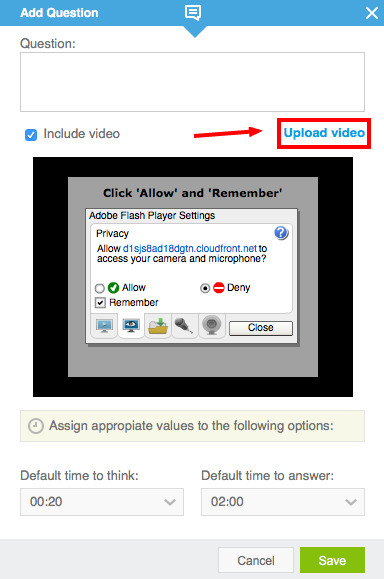 Now, you can either drag & drop a video or manually select one: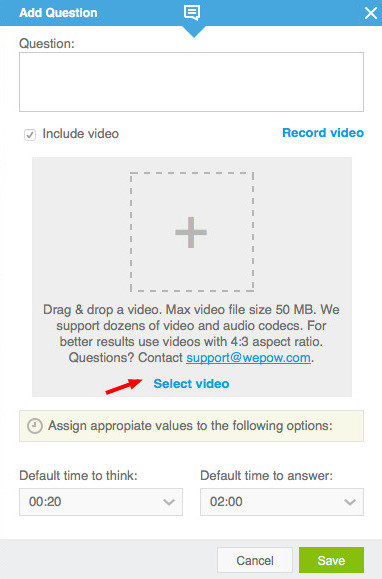 Once the video has been uploaded just fill the rest of the information on the resource you are creating and click Save. After a couple of minutes, your video will be available and ready to use.