Jobs and Hiring Profiles work together within the OutMatch Platform to help make identifying top talent simple and easy. It is the responsibility of your account's Hiring Administrator(s) to create and manage hiring profiles and jobs.
Although they are similar and work together, jobs and hiring Profiles are two distinct pieces of functionality within the OutMatch platform. 
What is a Hiring Profile?
A scoring bechmark that is used to evaluate candidates candidates for a particular job or job family.
A Hiring Profile allows you to:
Apply a consistent selection process (i.e. Assessment, Scoring, etc.) across jobs.

Simplify your setup with shared configuration settings.

Discover analytic insights across families of jobs which share the same hiring profile.
What is a Job?
A job is your vehicle for delivering assessments to applicants and for tracking candidate data.
A job allows you to:
Attribute a hiring profile to a single location/level within your company structure
Deliver the hiring profile (assessment) to multiple locations within your company structure
Invite and organize candidates
Organize candidate data
How Do They Work Together? 
Hiring profiles form the core of OutMatch Assessment because they house the benchmark used to objectively evaluate candidates. They are the 'under the hood' of how OutMatch Assessment works. Hiring profiles form the basis of every job within the platform and (as per the image below) can support multiple jobs. 
Jobs are the delivery vehicle for that assessment. Jobs are how you organize your data/candidates and multiple jobs can be connected to the same hiring profile (assessment).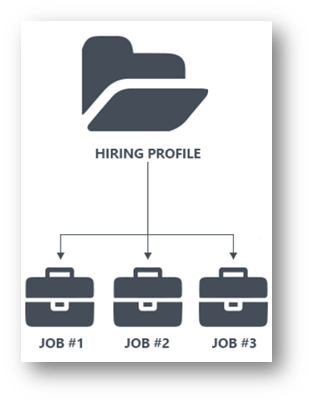 When creating a job, you MUST link it to either an existing hiring profile, or a completely new one you create. You can connect multiple jobs to the same hiring profile.
All hiring profiles must be connected to at least one job.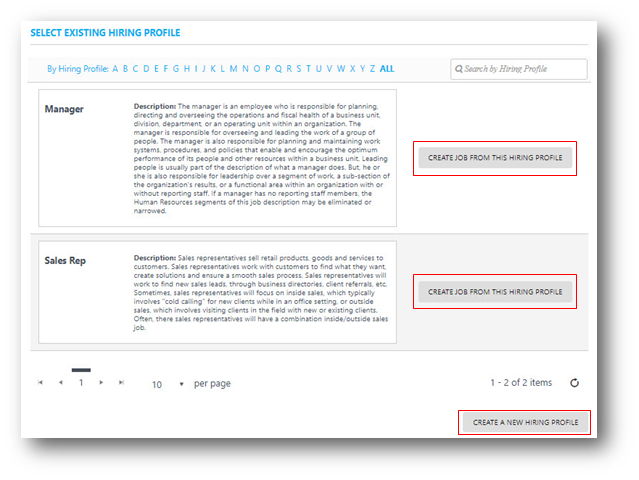 Still Need Help?
If you still have questions about your account, please contact OutMatch Support at support@outmatch.com. Please include:
Your first name and last name
Organization
And a detailed description of your question
Our business hours are Monday through Friday, 8:00 AM to 6:00 PM Central Time. We try to respond to all requests the same day if the request is received by 3 PM Central Time.