After setting up your assessment profiles, you can easily update the Hiring Profile name and description, or view the included abilities measures and competencies in your assessment.
Hiring Profile Settings
Navigate to your Settings gear and click Start Now under the Hiring Profiles section. Here, you'll see a full list of the Hiring Profiles in your account. You can search by name or filter alphabetically to locate a specific profile.

For each hiring profile, you have several options to take action:
Edit the name and description of the Hiring Profile
View profile details, such as measures and competencies
Update settings to show/hide images
View the estimated time to complete the assessment
Edit, remove, or add new interview questions
Delete the Hiring Profile (only if no candidate data is associated with the profile)
Add a new Job to the existing Hiring Profile
Viewing and Editing Hiring Profiles
To view the current configurations of the Hiring Profile or to edit the name, description, or images settings, click View/Edit This Hiring Profile. 

From here, you can:
Edit the name and description.

The name of the Hiring Profile will be visible to users as a filter option on the Jobs screen. The description is only visible to Hiring Administrators.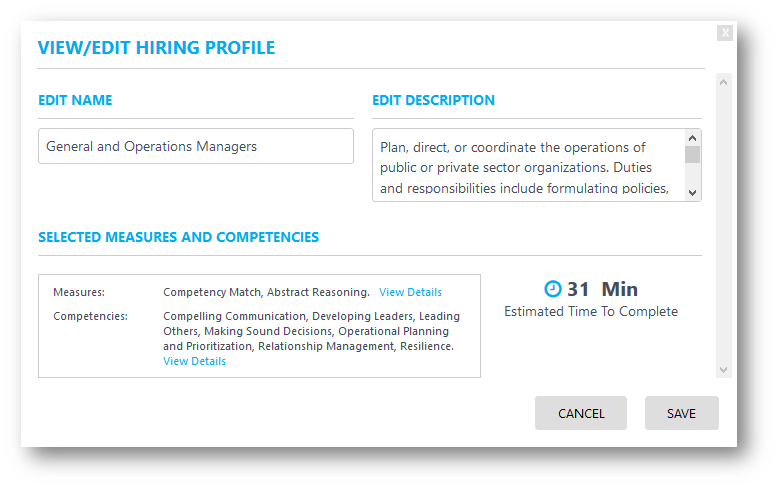 View the selected measures associated with the Hiring Profile.

Measures are the specific tests being administered to the candidate during the assessment experience.
Depending on the profile, a Behavioral or Competency Match personality component will always be included. Optional abilities measures, such as Abstract Reasoning, Profit and Loss, Sales Knowledge, or Numerical Reasoning, can only be configured when creating new Hiring Profiles. To ensure consistent scoring and candidate experience, measures cannot be edited or changed. If you wish to include different measures for a profile, create a new Hiring Profile with the desired configurations.
Click View Details to view measure definitions, relevance percentages, estimated time to complete, estimated drop-off, and to toggle images on/off.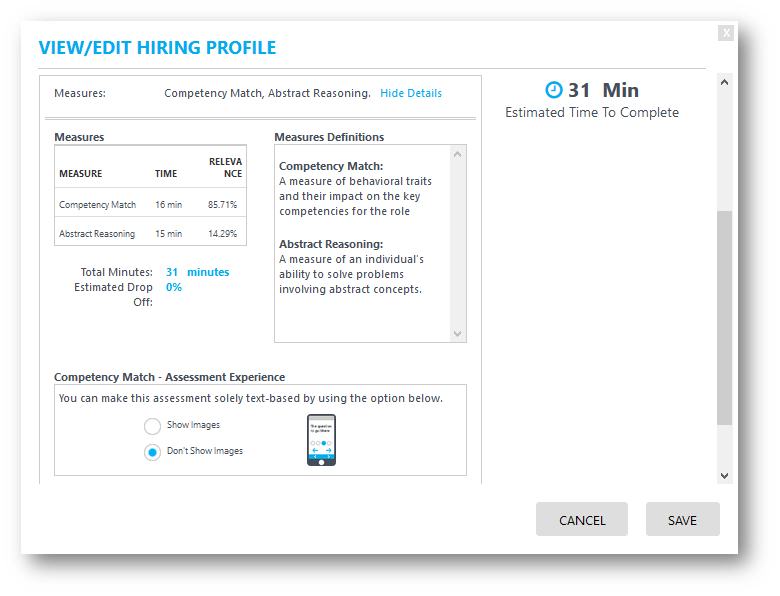 View definitions for the competencies being leveraged for this Hiring Profile.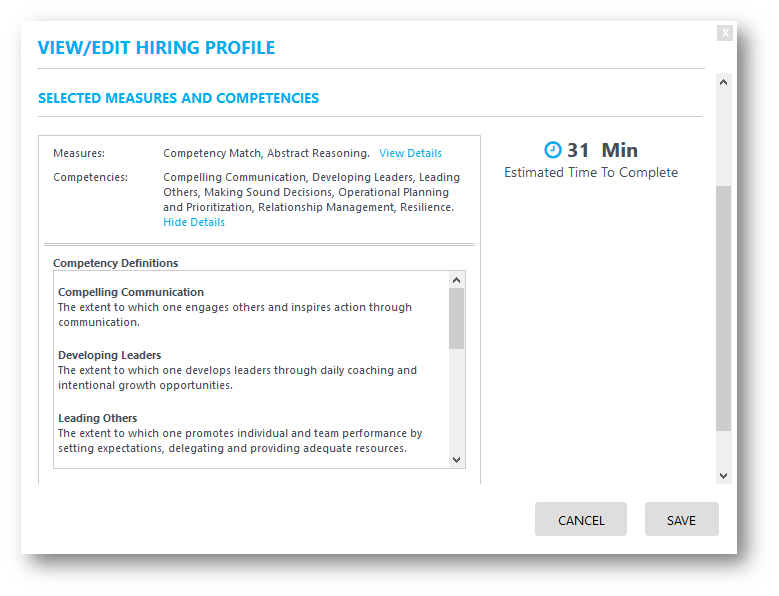 Editing Interview Questions
Every Hiring Profile has its own set of dynamic interview questions included as part of the candidate's assessment report. Click here to review how to update the profile's opening questions and competency questions to customize the interview guide to drive consistency and relevance for your organization.

Deleting an Unused Hiring Profile
Hiring Profiles can only be deleted if there is not any candidate data linked to the profile. Once a candidate has been invited to take a Job assessment associated with the Hiring Profile, or if a candidate's results have been compared to an associated Job using Succeed functionality, the Hiring Profile can no longer be deleted.

Adding a New Job to the Hiring Profile
Now that you have reviewed the configurations for a profile, perhaps you want to use the same profile and assessment configurations for a different position.  No problem!  You can quickly add a new Job directly from your Hiring Profile settings page, without having to navigate back to your Jobs screen.

Just click Add Job to This Hiring Profile, enter your new Job name and description, assign structure (if applicable), and Save.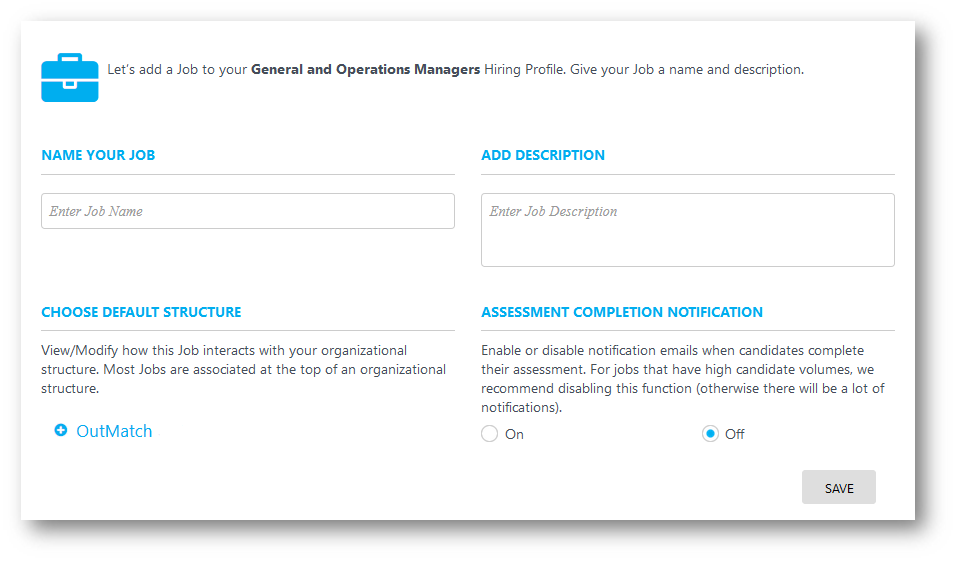 Your new Job is immediately available in your account, and ready to invite candidates!
Still Need Help?
If you still have questions about your account, please contact OutMatch Support at support@outmatch.com. Please include:
Your first name and last name
Organization
And a detailed description of your question
Our business hours are Monday through Friday, 8:00 AM to 6:00 PM Central Time. We try to respond to all requests the same day if the request is received by 3 PM Central Time.