OutMatch Assessment is not a 'set it and forget it' kind of system. We recognize that your hiring conditions change all the time and occasionally you need to make adjustments. Below we're going to explore how Hiring Administrators can make adjustments to existing hiring profiles.
Reviewing the Desired Hiring Profile
Click on the settings Gear and click Start Now under the 'HIRING PROFILES' section. You'll be taken to a screen that contains all of your account's current hiring profiles. You can sort and search this screen according to your needs. 

For each hiring profile you will have a few options:
Add Job
View/Edit
OutMatch Admin Controls (Only Available to OutMatch)
Edit Interview Questions
Delete Hiring Profile
To take action on the desired hiring profile select View/Edit This Hiring Profile.
Add Job
Since the hiring profile has already been configured you will skip all of the hiring profile configuration screens and land on the job screen. Use this screen to differentiate this new job from existing ones by either creating a different name or assigning this job to a new location within company structure.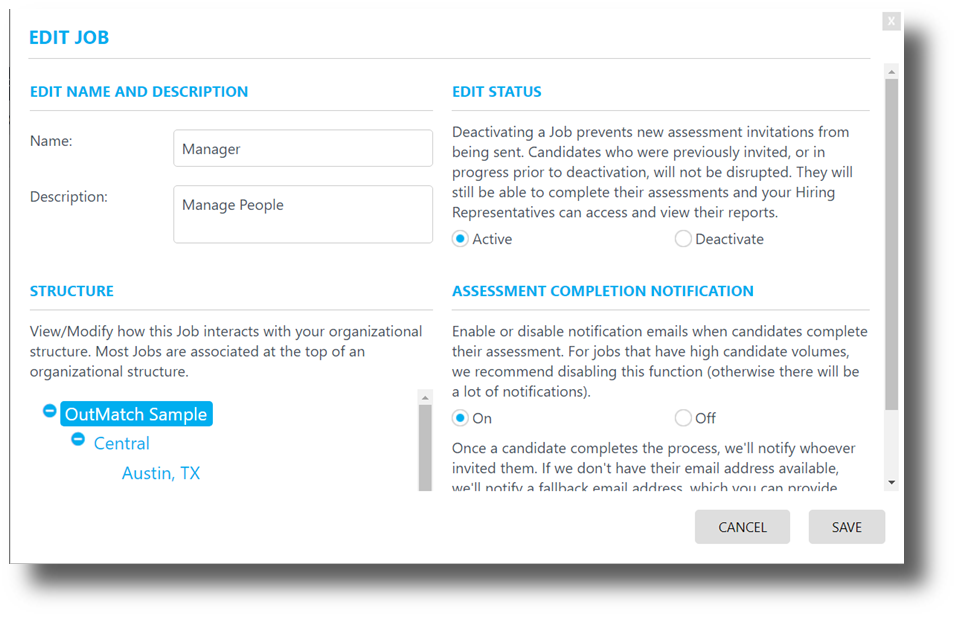 View/Edit
The edit screen is similar to the screen you will use to configure the hiring profile. On this screen you can:
View/Edit the Name and Description
View the Measures and Competencies associated with the hiring profile 
It should be noted that once the hiring profile is active YOU WILL NOT be able to make adjustments to the assessment modules. This is to ensure that the application process is consistent for all candidates who apply to jobs associated with this hiring profile.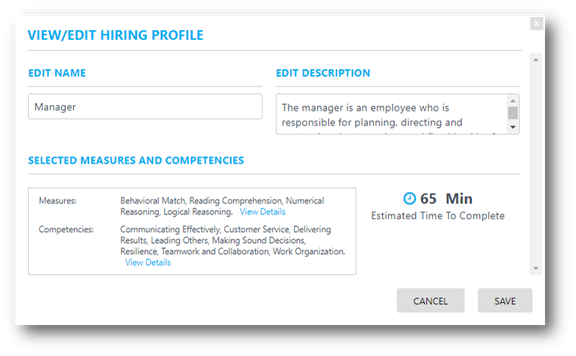 OutMatch Admin Controls
This functionality is only available to internal OutMatch Team Members. These controls give access to hiring profile assessment modification. 
Edit Interview Questions
Every hiring profile has its own set of dynamic interview questions which are made available to users as part of the candidate's assessment report. Please review our functionality around Interview Questions HERE.
Delete Hiring Profile
Active hiring profiles can be deleted IF there are no active jobs (with candidates) connected to them. Once a job (with candidates) is associated with a hiring profile it cannot be deleted. 
Managing and editing hiring profiles is extremely simple but will have wide ranging affects on your account as whole. Make sure to carefully consider all of your decisions and don't hesitate to reach out to OutMatch at any time with questions and concerns.  
Still Need Help?
If you still have questions about your account, please contact OutMatch Support at support@outmatch.com. Please include:
Your first name and last name
Organization
And a detailed description of your question
Our business hours are Monday through Friday, 8:00 AM to 6:00 PM Central Time. We try to respond to all requests the same day if the request is received by 3 PM Central Time.