Configuring Candidate Emails
As a Hiring Administrator, you have the option to edit the default email template for two candidate facing emails:
Candidate Invitation: Email sent to candidate with the survey link
Candidate Reminder: Email sent to candidates with Not Started or In Progress assessments to prompt candidates to complete; can be sent automatically or manually
Hiring Administrators can configure candidate emails from the Settings screen within the 'Candidate Emails' section. 

 For each email template, there are two key configurations you can make:
You can edit the default subject line and body of the email for the account
You can choose to let Hiring Representatives edit the email prior to sending
Making the edits
The process for editing each email is the same. First, select which type of email you would like to edit: Candidate Invitation or Candidate Reminder. 

On the Email Configuration page, you'll see an option to select Custom Email.
You'll also see an option to allow Hiring Representatives the ability to do 'one off' edits to the template when inviting candidates. This allows Hiring Representatives to author custom messages to candidates. Please note, even when this setting is enabled, only Hiring Administrators can edit the account default text. If a Hiring Representative edits an email prior to sending, those changes are not saved. If you do elect to allow Hiring Representatives to modify the candidate invitation, make sure to click NEXT to save this change. 
To edit the email, select Custom Email and click NEXT.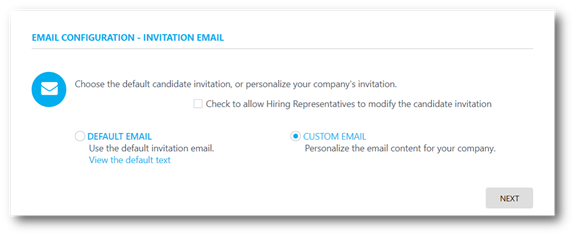 You'll be brought to the email template screen. Editing the template is simple and there are no restrictions on edits you can make to the templates. Please be aware that any edits you make will be universal across the entire company account. Also, emails can only be in one language. 
Make sure to leverage the Email Tokens! Email tokens are automatic substitution values that can be used in the template, like candidate name and email. 
Please note that Invitation emails are sent from a "noreply" email address. We recommend that you include this default text when customizing emails to avoid confusion.  
When you are finished with your edits, click SAVE. You will see a confirmation that your changes are live.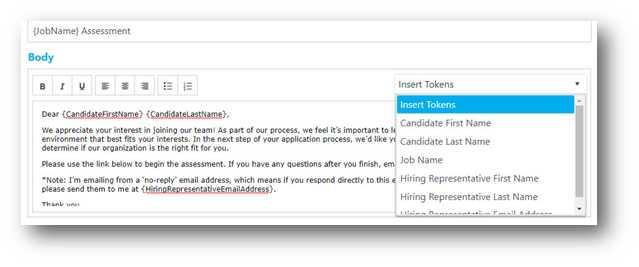 Still Need Help?
If you still have questions about your account, please contact OutMatch Support at support@outmatch.com. Please include:
Your first name and last name
Organization
And a detailed description of your question
Our business hours are Monday through Friday, 8:00 AM to 6:00 PM Central Time. We try to respond to all requests the same day if the request is received by 3 PM Central Time.