Step 1: Logging In
To begin using the assessment, you need to access it! The process for setting up your account is the same for Hiring Administrators and the Hiring Representatives.  Before you begin, you should add 'noreply@outmatch.com' to your safe senders list (check your email program for instructions). This is the 'from' email used in most communications. This will help ensure emails aren't going to your spam or junk folders in your inbox.
The First Time
In all scenarios, an Administrator (either an OutMatch Administrator or a Hiring Administrator) will need to create an account for you. Once your account has been created, you will receive an automated email from noreply@outmatch.com with a link to establish your password. You do have the ability to set your own password, but you do not have the ability to set your username since it must always be your email address.
What if you didn't receive the email? Contact your Hiring Administrator who will then leverage the necessary resources. 

Returning User
Once you've established your account, you can log into the OutMatch platform at your leisure. Navigate to https://apps.outmatch.com and enter your username (i.e., email address) and password.
Remember, you can always retrieve your password if you forget it! To retrieve your password, select 'Forgot Password?' above the Sign In button on the login screen. You will receive an email with a link to a screen where you can create a new password.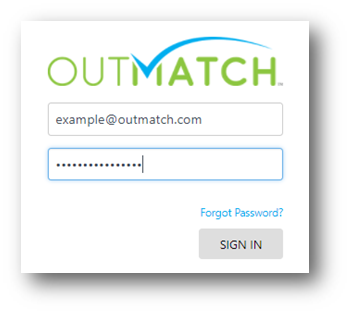 You're In!
You'll know you are in the right place when you see the navigation bar at the top of the screen with the four key dashboard sections: Home, Jobs, Candidates, & Analytics. If you are a Hiring Administrator, you should also see a gear icon

at the top right of your screen.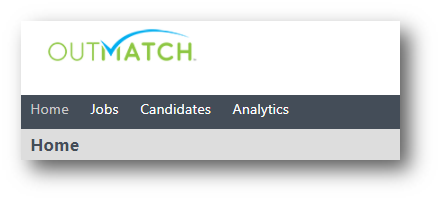 Next, let's get into the detail of Navigating OutMatch Assessment.