Step 4: Invite Candidates to complete the Assessment!
Candidates can be invited to complete the OutMatch Assessment two ways:
Directly from the Home or Jobs screens
Via a self-registration link
Direct Invitations
From the Home screen, you can add candidates to the system via the Invite Candidates section highlighted below.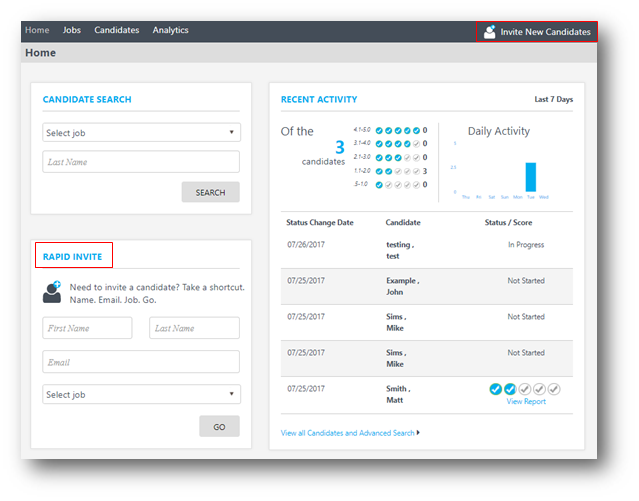 From the Jobs screen, you can invite candidates directly to an active job.

In both instances, the steps will be the same:
The job is selected.
Add candidates (up to 20 at once!).
Send the survey invitation email.
Before you send the invitation(s), you will have the ability to review the invitation email being sent to the candidate(s). The 'from' email address for all invitations is 'noreply@outmatch.com'. During correspondence with the candidate, you may want to notify the candidate to add this email address to their "safe senders list".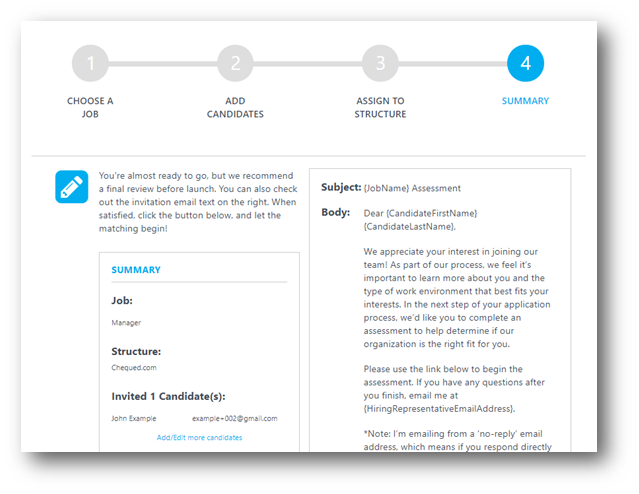 The ability to edit invitations and set default invitation text is a feature that an Administrator must activate. If you do not see an option to edit invitations, please contact your Hiring Administrator.
Self-registration Link
Within the Jobs screen, there is another method for inviting candidates to the survey: the Self-Registration link. When a job is created within your dashboard, it will be paired with a unique static link. This means that every job will have a link that candidates can use to 'self-register' for an assessment. Scenarios for which this might be useful:
You would like to post the survey link within a job posting
You would like to invite candidates directly from your email
You would like to invite a large number of candidates at a single time and do not want to go through the process of adding each candidate individually
To access this link, select Self-Registration Link to the right of the desired job. A pop up will appear with the link. Copy the link and paste wherever you choose. 


Anyone who clicks on this link will be asked to create an account. After the account is created, the candidate will be launched into the assessment and the candidate's name will be reflected on your dashboard.
Monitoring Progress
The Candidates screen will include all information for candidates across jobs. You will be able to:
View candidates by status (Completed, In Progress or Not Started).  Just check the box of the status that you wish to view. Only candidates in this status will appear in your onscreen list.                             
View candidates using filters by Job, Structure, Score, and/or Date Range. 
Sort your candidates by status, last name or score.                                                          
Search for a specific candidate.                                                  
Send reminders.                                                                                            
Review recent candidate activity.
Once a candidate completes a survey, the candidate's report will be available immediately from this dashboard.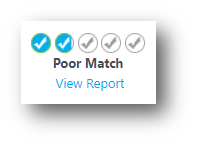 Next we move onto how to access a candidate's report!