Overview
What is a Hiring Profile?
What is a Job?
How do they work together? 

Reusable profile scientifcally configured to predict succes
Foundation for jobs 

Hiring Profile attributed to a single entity within company structure
How assessments are delivered

Hiring Profiles are the base of every job
Multiple jobs can share the same hiring profile
 Creating Jobs - New Hiring Profile
 Navigate to the Jobs page, select Add Job and then Create New Hiring Profile.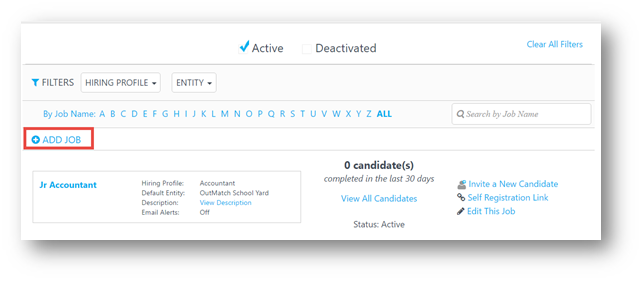 You can search for a Hiring Profile by a variety of criteria including name, industry, job  function and job level. Once you find the desired Hiring Profile click Select and Configure.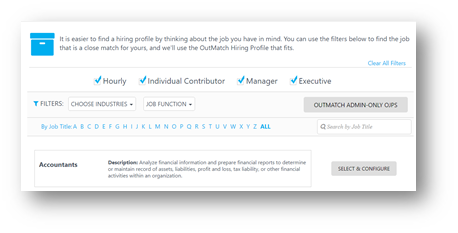 Configure the profile by providing a name, description and selecting which modules you want to include in the assessment. To finish, you will be brought to an edit screen where you will create the Job which will be attached to this new Hiring Profile.
Increasing the number of modules used will increase accuracy at the expense of longer assessment times and lower completion rates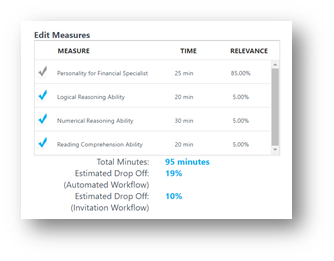 This edit screen is required to set where the job resides in your Company Strcuture, thus which users have access to it.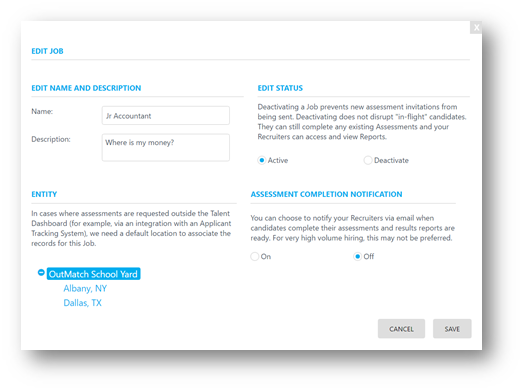 Creating Jobs - Existing Hiring Profile
Creating a Job from an existing profile follows almost all of the steps outlined above. There is one difference: When you are on the Hiring Profiles page you will select Create Job From This Profile to reuse an existing one. All of the other steps are exactly the same

Editing Jobs

Managing Hiring Profiles
Once a Hiring Profile has been created you will have a variety of tools at your fingertips to monitor and manage it. These controls are located within Account Settings (see next section to learn more. From here you can take several actions:
View how many candidates have been added to this Hiring Profile over the last 30 days. (This includes all Jobs attached to this Hiring Profile)
Review the current settings for a Hiring Profile and edit if needed
Manage the Custom Interview Questions attached to the Hiring Profile. These questions will appear as part of any candidate report attached to this Hiring Profile
Activate/Deactivate the Hiring Profile